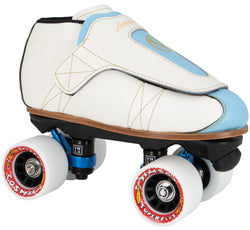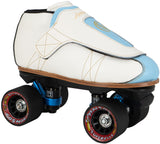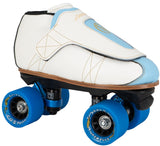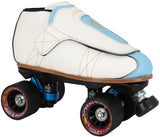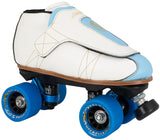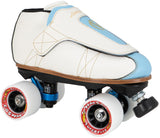 VNLA Anniversary Freestyle Cosmic
The Anniversary Freestyle is the style you remember from the past with todays durability.  The new boots have softer counters, the leather has been upgraded and offer additional scuff resistant. 
The Vanilla Pro Series has become the staple for any high-end skate; a must have for any skater!  We've still got the same great fit with a wider toe box, the same length as Riedell boots, and the famous shearling for the heel.

Paired with a high impact, light weight nylon plate is ideal for jam skating or recreation.  The Gorilla plates include a LIFETIME warranty against breakage.  

Along with the Gorilla plate, you can pick your Cosmic wheels. The Cosmic Super Fly is a 92A high rebound urethane with a solid nylon hub.  You can't go wrong with this wheel!

Wheels: Cosmic Super Fly (you pick the color)
Bearings: Magnum Speed Master 7
Plugs: Vanilla Jam Plugs or toe stops

Skates are listed in men's sizes.
Ladies, please go down one size for the best fit.  Example; if you wear a size 8 women's, you would want to order a mens 7. 

Shipping & Handling Charges are as follows:
$5.00 flat fee (4-10 days) and $10.00 express (3-4 days) for domestic shipping within the United States.
Free shipping on all domestic orders above $99.99.
Shipping will be calculated at checkout for international orders.  
The processing time for orders is 24-48 hours. After your order has been shipped, delivery time within the United States is 10-14 business days due to COVID-19, and 20-30 business days internationally. Please keep in mind that during holidays or limited edition launches and restocks, this time may vary. 
VNLA is not responsible for any shipping deliveries that may be affected by customs, natural occurrences, or air and ground transportation strikes or delays, nor any extra fees, customs, or back end charges once the package has exited the United States.
Packages undeliverable by FedEx SmartPost, USPS, DHL and/or their international shipping partners will be canceled and refunded once received and processed at our shipping hub.