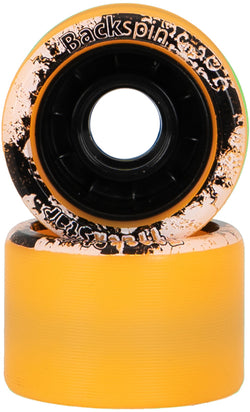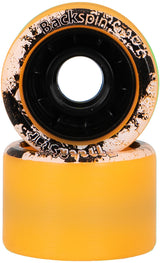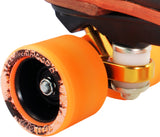 Backspin Trackstar Wheels
Backspin wheels are made with top quality in mind. The wheels are made with a urethane that was specifically designed to grip on all possible surfaces. The special "ridge" in the hub will keep you rolling fast on the straightaways and will keep you stick to the floor around corners.

With the larger size, 62mm x 42mm, you will have plenty of surface to help you reach top speeds at the rink!

Great grip (89A) and super light. Be a star with the Trackstar wheels!
Shipping & Handling Charges are as follows:
$5.00 flat fee (4-10 days) and $10.00 express (3-4 days) for domestic shipping within the United States.
Free shipping on all domestic orders above $99.99.
Shipping will be calculated at checkout for international orders.  
The processing time for orders is 24-48 hours. After your order has been shipped, delivery time within the United States is 10-14 business days due to COVID-19, and 20-30 business days internationally. Please keep in mind that during holidays or limited edition launches and restocks, this time may vary. 
VNLA is not responsible for any shipping deliveries that may be affected by customs, natural occurrences, or air and ground transportation strikes or delays, nor any extra fees, customs, or back end charges once the package has exited the United States.
Packages undeliverable by FedEx SmartPost, USPS, DHL and/or their international shipping partners will be canceled and refunded once received and processed at our shipping hub.