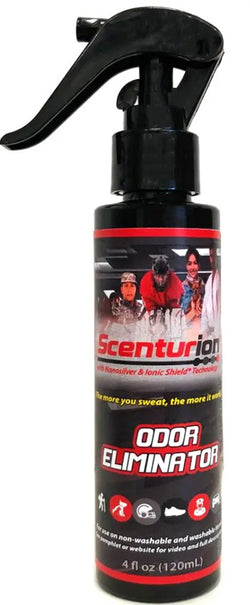 Scenturion Odor Spray 4oz.
Do your Vanilla's smell?
Scenturion® is a clear, flexible, micro-coating fortified with pure Nano Silver which is formulated to sanitize and kill 99.9 % of the microorganisms which cause odor in athletes. Scenturion eliminates all the causes of odor.

The real genius of Scenturion® is that every time an athlete wears their equipment, which has been sprayed and allowed to dry, when their sweat reaches Scenturion's Nano Silver it reactivates the silver producing silver ions that wipe out all the microbes on the gear. The More You Sweat,The More It Works®

Unlike other sprays, Scenturion® does not have any added fragrance. Gloves etc. won't smell like pine or citrus when you use it. A fragrance will only mask odor temporarily.  That's why other sprays have to be constantly reapplied

Scenturion® is non-toxic.  Athletes who suffer from allergies are sure to benefit from using Scenturion® because it does not emit any harmful chemicals often found in deodorizers that mask odor with potentially harmful fragrances (essential oils).  You could treat a toddler's shoes with Scenturion – it's completely safe!
Shipping & Handling Charges are as follows:
$5.00 flat fee (4-10 days) and $10.00 express (3-4 days) for domestic shipping within the United States.
Free shipping on all domestic orders above $99.99.
Shipping will be calculated at checkout for international orders.  
The processing time for orders is 24-48 hours. After your order has been shipped, delivery time within the United States is 10-14 business days due to COVID-19, and 20-30 business days internationally. Please keep in mind that during holidays or limited edition launches and restocks, this time may vary. 
VNLA is not responsible for any shipping deliveries that may be affected by customs, natural occurrences, or air and ground transportation strikes or delays, nor any extra fees, customs, or back end charges once the package has exited the United States.
Packages undeliverable by FedEx SmartPost, USPS, DHL and/or their international shipping partners will be canceled and refunded once received and processed at our shipping hub.