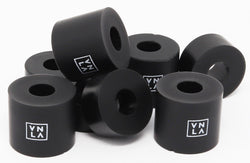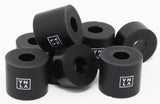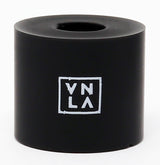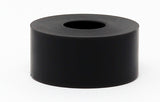 Vanilla Gorilla Cushions v2.0 (set)
New & Improved
After years of research and testing, Vanilla has revamped the Gorilla cushions.  The new cushion shape/size offers the more stability and controlled turns.  The improved cushion shape and rubber is guaranteed to be noticeable over previous designs. 
Priced per set.
Set includes 4 large & 4 small cushions. 
*HARD AND SOFT CUSHIONS DO NOT HAVE THE VNLA LOGO ON THEM. 

Shipping & Handling Charges are as follows:
$5.00 flat fee (4-10 days) and $10.00 express (3-4 days) for domestic shipping within the United States.
Free shipping on all domestic orders above $99.99.
Shipping will be calculated at checkout for international orders.  
The processing time for orders is 24-48 hours. After your order has been shipped, delivery time within the United States is 10-14 business days due to COVID-19, and 20-30 business days internationally. Please keep in mind that during holidays or limited edition launches and restocks, this time may vary. 
VNLA is not responsible for any shipping deliveries that may be affected by customs, natural occurrences, or air and ground transportation strikes or delays, nor any extra fees, customs, or back end charges once the package has exited the United States.
Packages undeliverable by FedEx SmartPost, USPS, DHL and/or their international shipping partners will be canceled and refunded once received and processed at our shipping hub.